Sports Website: Use the Internet for Effective Promotion
Sports Website: Use the Internet for Effective Promotion
Sports Website: Use the Internet for Effective Promotion
Experience the pulse-pounding, adrenaline-infused world of sports, where the competition isn't just on the field and the digital playground! Fasten your seatbelts and prepare for an exciting journey through the dynamic and vibrant universe of sports website design. It's a sector where creativity meets technology, energy turns into pixels and where the roar of the crowd transforms into user engagement. So, are you ready to step into the thrilling arena of sports web design where only the innovative can emerge victorious? Let the games begin with the dependable website designing companies in India!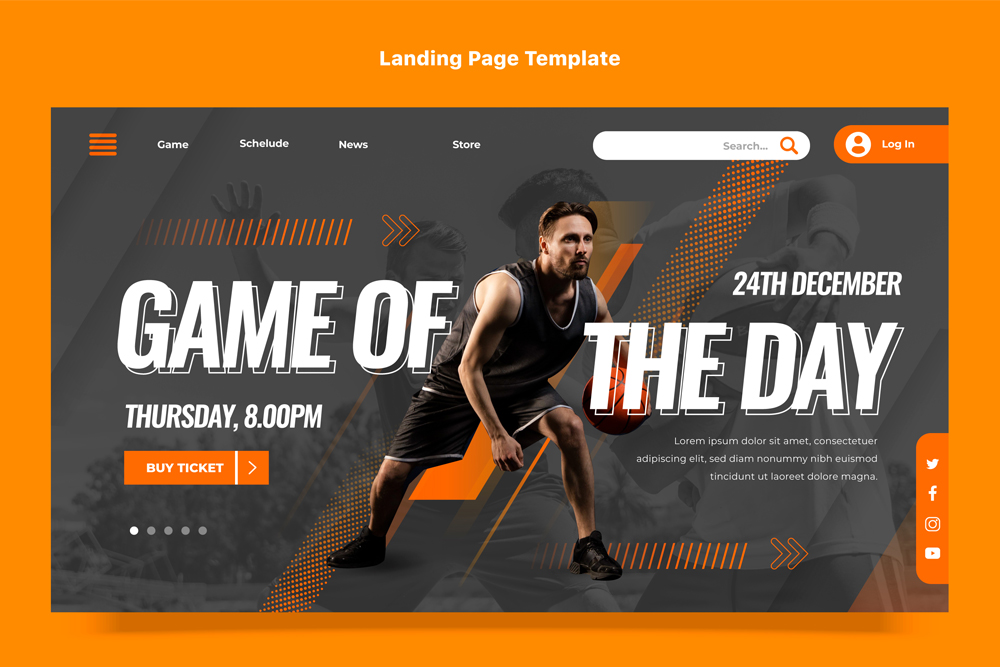 Harnessing Web Design: A Game Changer in the Sports Arena
Sports, a field overflowing with enthusiasm and competition, mirrors these elements in its digital presence. The significance of website design in the sports industry is as crucial as a game-winning goal. It digitally represents the brand's ethos, reflecting its energy, passion and dynamism. For this reason, top web designing companies are ready to create intuitive, user-friendly and engaging platforms.
Navigating the Ever-Evolving Sports Terrain with Website Designing Companies
Sports, like its digital counterpart, never stands still. The current sports industry, ever-expanding and fast-paced, thrives on constant engagement with fans and athletes alike. Websites have emerged as powerful tools for this engagement. A well-designed site can provide seamless access to the latest news, schedules, ticketing, merchandise and more, keeping fans connected and loyal.
Cracking the Code: Essential Elements of Sports Web Design
A sports website by an expert web designing company is an exhilarating blend of various design elements. Responsive layouts are fundamental, ensuring every user has a seamless experience, irrespective of their screen size. In addition, high-quality images and videos, capturing the raw emotion and action of the sports, are an indispensable part of the site, increasing engagement and giving fans an almost live experience.
Setting the Aesthetic Tone: Bold Fonts and Colors
Just as in sports, where every game is an expression of individuality, a sports website must also capture this spirit. Bold typography and vibrant color schemes combine, creating a visually appealing interface. The right choice of colors, aligned with the brand's identity, coupled with bold typography, enhances readability and user experience.
Experience the Thrill: Interactive Features and Animations
A sports website is not just about information; it's about experiencing the thrill of the game. Interactive features and animations bring the website to life, making it more than just a platform. Quizzes, polls, live chats and animated graphics give users an immersive experience, inviting them to be a part of the sports world.
Embracing the New Age: Minimalistic and Clean Designs
While high-energy design elements rule the roost, the recent trend leans toward minimalistic and clean designs. Web design companies increasingly opt for a more focused layout with easy navigation and uncluttered visuals, making the user experience more efficient and enjoyable.
Spotlight on the Champions: Top Sports Websites
Let's turn our attention to some top sports websites that have raised the bar in website design.
The iconic brand Nike uses bold visuals and a responsive layout to create an immersive and intuitive platform.
Adidas, another powerhouse, brings together high-quality images and interactive features to engage users.
Under Armour impresses with its vibrant colors and animated graphics, showcasing its products in action.
With its sleek, minimalistic design, Puma brings focus to their products while ensuring easy navigation.
Reebok's website design stands out with its high-energy visuals, engaging content and user-friendly interface.
In the dynamic world of sports, website design plays a pivotal role. It's not just about aesthetics; it's about mirroring the energy, passion and dynamism of the game. As website designing companies continue to innovate and elevate the digital sports experience, fans are in for a thrilling ride. So, keep your game face on because the digital sports world is ready to play.
Make Your Brand the Internet Sensation with Ecom Soft!
Want to hit a home run in the digital world of sports? Ecom Soft Tech Solutions, one of the leading website designing companies in India, is ready to be your all-star teammate. Elevate your sports brand and engage your audience like never before. Contact Ecom Soft Tech Solutions today, and let's take your game to the next level together!